I made this Christmas decoration about four years ago, but I love it and get it out every year to decorate for the holidays.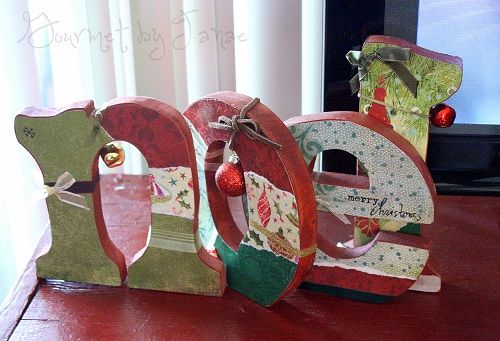 I was a missionary for my church, serving in Texas for a year and a half. I made these at a Relief Society activity in the middle of the week around Christmas time. I made a few other things, but they were gifts for family members that year.
These are simple to make though, as long as you're good with a jigsaw or can find pre-cut letters. The letters were all pre-cut for us (that made things
way
easier) out of 1" thick wood. Then we painted the letters, traced them onto decorative paper, and Modpodged it on. We finished these by adding ribbons, bows, mini ornaments, bells, and other little decorative things.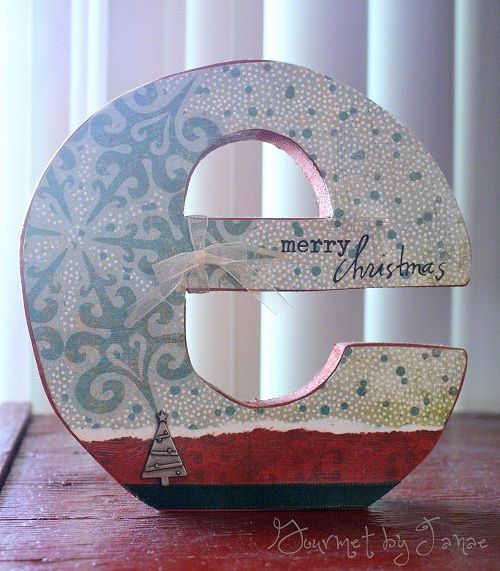 This is my favorite letter I made.
If you're planning on doing something like this, here are some
tips
and
ideas
:
Use acrylic paint, and try watering it down. The wood grain will show through the paint, giving it a really pretty, unique look.
You can also add water to the Modpodge to make it go a little further.
Modpodge the letters, front and back to seal the wood and keep the paint from smearing, should they somehow get wet (you never know with kids or while in storage).
To store these, wrap them in waxed or parchment paper. Tissue paper will stick the the Modpodge.