Remember
Amber's bracelet
that I made for her wedding last weekend? Well there's something else I have to tell you about. I had nothing to do with it, but it was just too amazing to not post about.
Her wedding cake.
There's something you should know about Amber. She loves Nutella. She has eaten it by the jar on her bad days (who am I kidding--I have too).
With that in mind, our friend Autumn offered to make her wedding cake. By the way, Autumn works at a local chocolate shop called
Eclipse Chocolat
as one of the chocolatiers/bakers/chefs. Eclipse is my all-time
favorite
place to buy dessert, or chocolate, or candy, or pure happiness. There are no words to adequately express what an Eclipse experience is like. It's mind blowing. Everything they concoct is unexpected, and yet, the flavors are so rich and always compliment each other perfectly.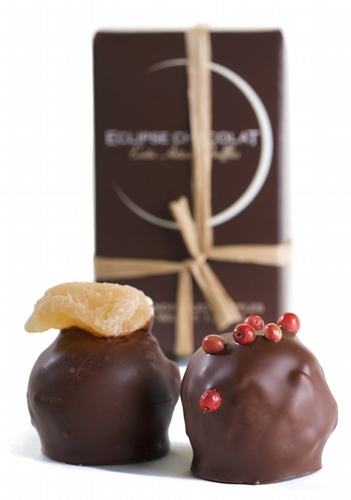 photo from eclipsechocolat.com
So for Autumn to make this cake, you can imagine that it wasn't just any ol' cake. Not only was it delicious beyond compare, but it was
absolutely
stunning too.
The cake was made with dark chocolate, white chocolate sea shells, Nutella, and ground hazelnuts.
(Holy Hannah. Yes, yes I did just say all of that in one sentence.)
It was richer than Bill Gates and tasted better than Thanksgiving dinner. Autumn is a food genius and dessert perfectionist.
I'm not sure if there is a recipe for this or not. She kind of made it up as she went, I think.
But what I wouldn't give to have another divine piece!
Also, look at how adorable Graham was at the wedding.
He's seriously such a cute baby. I'm one lucky momma.